2009 2008 Ford Ranger on sale at discount price for import and export at Thailand's best 4x4 Exporter of Toyota Hilux Vigo, Mitsubishi L200 Triton, Nissan Navara and Ford Ranger: Sam Motors Thailand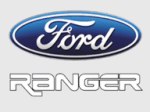 Contents
Ford Ranger 2008 Specifications are in our Ford Ranger Specifications.
Here is the press release on the latest Ford Ranger model:
"FORD RANGER WITH NEW GENERATION DURA TORQ TDCI COMMONRAIL ENGINE TECHNOLOGY MAKES WORLD DEBUT IN THAILAND
Ford Ranger made its world debut in Thailand at the Bangkok International Motor Show.
Ford Ranger shares the bold "Built Ford Tough" design features with the American Ford F-series pickup, the best selling truck in the world for 29 consecutive years
The All New Ford Ranger's powerful 3.0L and 2.5L DURA TORQ TDCi engines feature the latest Commonrail Fuel System and Variable Geometry Turbocharger for best-in-class engine performance AND fuel economy

the new 2.5L engine provides 143PS engine output at 3,500 rpm and 330Nm of torque at 1,800 rpm AND still delivers 22% better fuel economy than the previous Ranger.

the new 3.0L engine delivers best-in-class 380 Nm torque at 1800 rpm and 156PS at 3,200 rpm. AND still delivers 15% better fuel efficiency than the previous Ranger.

Ford Ranger sets a new standard in engine performance, fuel economy, refined interior, passenger comfort, excellent drivability and superb functional capabilities.
BANGKOK, Thailand, March 7, 2006 - Ford Ranger makes its world debut in Thailand at the Bangkok International Motor Show and introduces the latest of Ford's American Tough Truck to the Thailand market. Ford is confident to continue its success in the one-tonne pickup segment with the new Ranger pickup that aims to set a new standard in the industry in terms of engine performance, fuel economy, passenger comfort, safety features, excellent drivability, towing capacity and affordability. The tough exterior and refined interior design is an extension of the most successful pickup truck in the world, the best-selling American Ford F- series trucks for 29 consecutive years.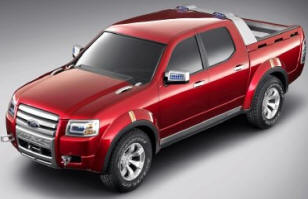 The new Ford Ranger defines Ford's American Tough Truck heritage and delivers on the company's commitment to offer innovative products to customers that are affordable and of high-quality.
Mr. John Fink, Executive Vice President of Ford Thailand, recalled that "When the first generation one-tonne Ford Ranger came to Thailand, it revolutionized the entire pickup truck market with innovations that changed the pickup standard - first with passenger airbags and ABS brakes in 1998, first with double cab bodystyle in 2000, and first with Rear Access System on Stretch Cab bodystyle in 2002. With the All New Ford Ranger, we will again set a new standard in engine technology with the new DURA TORQ commonrail engine that pushes the boundaries in performance and fuel economy. All these innovations come together in the All New Ford Ranger in a package that is tough, durable and best of all, affordable.
"Ford Ranger is an authentic modern American Tough Truck; through its bold statement of Build Ford Tough design and technology innovation, the All New Ford Ranger really hits the bullseye directly where our customers demand so," Mr. Fink said.
Exceedingly Powerful and Fuel Efficient DURA TORQ TDCi Commonrail Engine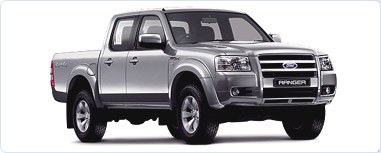 The All New Ford Ranger is powered by the latest commonrail engine with 16-valve Dual Overhead Camshaft (DOHC), new generation high pressure Bosch Commonrail Fuel Injection System and Variable Geometry Turbocharger to deliver exceptional engine performance, best-in-class torque, rapid engine response and high fuel economy.
The 2.5L engine delivers 143 PS and 330Nm of torque at a low 1,800 rpm, yet provides 22% better fuel economy than the Ranger's previous 2.5L WLT turbo engine. The 3.0L engine is a new addition to the Ranger, and boasts best-in-class 380 Nm torque at 1,800 rpm and 156PS power output.
The perfect combination of "Variable Geometry Turbocharger" technology and the new generation Commonrail Direct Injection Fuel System increases power output and torque across the driving range - making Ford Ranger a spirited performer on expressways, crowded city streets and off-road conditions, with instantaneous acceleration even when carrying heavy payloads. The Dual Mass Flywheel increases engine response and reduces engine vibration to provide smooth engine acceleration and responsiveness.
The turbo-diesel powertrain is mated to a new 5-speed Manual Transmission, designed for easy shifting for a more car-like response and handling.
Bold and Tough Exterior Tougher and more muscular, Ford Ranger carries a distinctive ruggedness that runs from the grille up into the power dome of the hood, through the body, and down into the rear. The raised beltline contributes to its bold and commanding profile yet retains a modern and sleek look.
The characteristic 3-bar front grille is wider allowing for improved air-flow and superior cooling for heavy duty hauling and towing. The split front fascia houses new rectangular headlamps designed for off-road application. Its clear-lens reflectors feature jewel-like details to provide superior light distribution.
Large pronounced wheel-arches further enhance the muscular presence of the truck. The new Ranger is fitted with 16-inch alloy wheels and all-terrain tyres.
Mr. Fink said that "The All New Ford Ranger's rugged exterior speaks for itself - as an authentic 'Tough Truck' that delivers on command each time. The Ford Blue Oval prominent at the front and rear are proud badges of honor and distinction - hallmarks of its Built Ford Tough American Truck heritage."
Modern and Refined Interiors While Ford Ranger exterior speaks of "Tough Truck", the interior offers a welcome delight with a space that provides a comfortable and luxurious experience to the driver and passengers through its sedan-like modern and refined interiors, and superb suspension.
Ford Ranger features a refreshing interior color of camel, in addition to the more conventional grey interior. The "power-theme" of the exterior is carried forward to the interiors through bright chrome details. The modern and sporty three-cluster instrument panel is complemented by the bright chrome center stack housing the integrated high fidelity CD player, AM/FM radio with MP3 capability.
The seats have been ergonomically designed with front-seat cushions, side bolsters and bigger headrests to offer better support and comfort for long-distance traveling. The rear seats have improved seat-back angles and feature a central armrest.
There are plenty of uniquely designed storage areas for convenience and functionality. Ranger offers five cup holders and two one-liter bottle holders in the front door trim panels. The large center console consists of upper storage for smaller items and larger lower bin for CDs and larger items. The cavernous 8.1L glove-box adds to more stowage room.
In an industry first, a working tray table pulls out neatly from the instrument panel, suitable for placing lunch or completing paperwork.
Excellent Drivability Ford Ranger has been engineered to work the way you work, the way you expect your truck to work. Every mechanical aspect of the truck has been engineered and fine-tuned to deliver superior driving and handling.
The Ranger's new ladder frame chassis adds increased rigidity and a tougher and more durable suspension contributes to improved ride capability. Steering has been optimized for easy handling at low speed and firmer steering at higher speeds, allowing for easier low speed parking maneuvers and minimum of understeer and oversteer at high speeds.
Acceleration is instant, smooth and predictable, while body roll is at a minimum and adhesion to the ground is high even under dynamic driving, thus giving the driver excellent road holding control and confidence.
The brake system is designed for superior braking control under real-world loaded work truck conditions. Braking is smooth, stable and controlled. With Electronic Brake Force Distribution (EBD), the system automatically adjusts to the load carried to give confidence to the driver even under maximum payload or towing capacity. The 4-Wheel Antilock Brake System (ABS) prevents wheels from locking during sudden braking on slippery conditions.
Superb Functional Capabilities Ford Ranger has superb functional capabilities like no other - it is a "truck done right for the job." The pick-up box has been raised 60mm to offer an impressive cargo volume capable of carrying one tonne payload and up to three tonne towing capacity. A unique shelving system incorporated into the pickup box's inner lip design allows for flexible and optimal cargo management.
Ford Ranger continues to set new safety standards in the pickup truck industry through its industry-first seat side airbag. Front driver and passenger airbags are standard. Three-point seatbelts in outboard positions come with seatbelt pre-tensioners that provide improved passenger restraint. Superior body construction designed to manage the crash forces away from vehicle occupants, side intrusion beam for side impact protection and the raised door beltline provide added safety and protection, making Ford Ranger one of the safest trucks in the market today.
As a tough work horse, the Ranger is well equipped to tackle any challenging terrain. Ranger has a generous ramp-over angle while vehicle approach and departure angles have been designed for steep climbs. Combined with extremely tractionable engines and high levels of on-demand torque, the Ranger is an authentic off-roader you can depend on to take you anywhere and to get you back safely. The Ranger's tough 4X4 capability is well proven through the success of its predecessors in conquering the harshest conditions found in the far-flung corners of the world - the Ford Ranger is the indisputable authentic Build Ford Tough truck.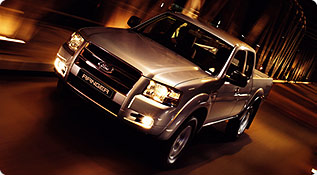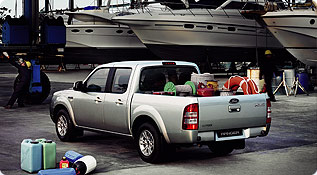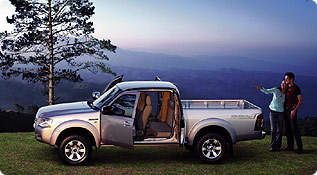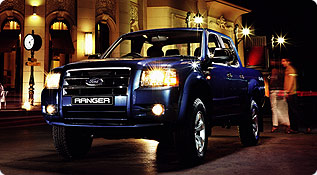 v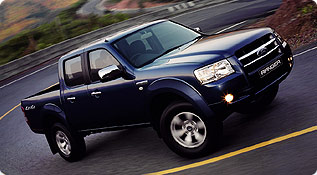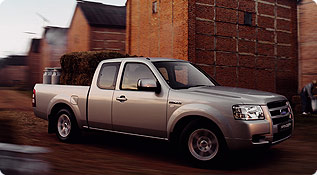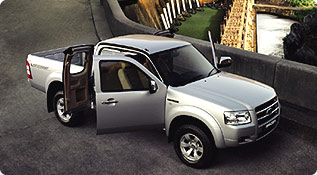 | | |
| --- | --- |
| | The 3.0 liter version of the new DuraTORQ turbodiesel in the Ranger cranks out a stout 280 lb./ft. of torque at only 1,800 rpm. |
Ranger intro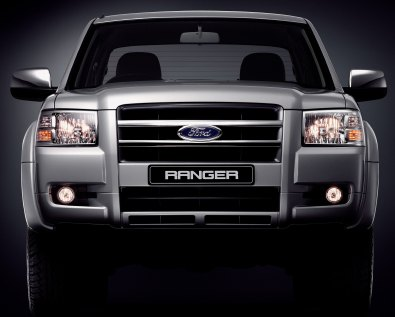 Ford Ranger is the super-advanced safety pick-up that has won a place in the hearts of Thais. This 1-ton pick-up was specially designed for Thailand and produced by Auto Alliance Manufacture (Thailand) Limited. The new Ford Ranger developed for Thailand is built to the same standard of quality and safety as Ford is acclaimed for worldwide. It is the result of the long experience and the high technology skill that has been developed by Ford in North America.
The launch of Ford Ranger had a stunning effect on the pick-up segment of the Thai market. This safety pick-up derived its design concept from the Ford F-150 and shares the quality and technology advances inherent in the F-SERIES, the pick-up that achieved highest global sales.
Ford Ranger has emerged as "the first safety pick-up truck in Thailand", winning Thai hearts with its solid construction, advanced safety system and the powerful performance of its diesel-turbo 12-valve engine.
"Tonka" means "Greatness" in the language of the Sioux tribe of North American Indians. The word is well-known as a symbol of strength and durability, yet something that delivers much enjoyment. So, Tonka is a most appreciated name for this remarkable pick-up of the future.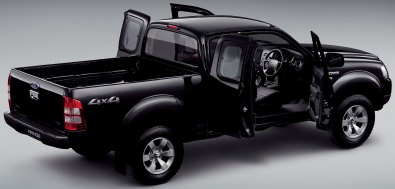 Developed from the Mighty F-350 of the acclaimed F-Series, the design of Tonka has been improved thoroughly and has set new standards in pick-up trucks for years to come.
The Ranger is built at a completely new greenfield plant in Thailand, constructed and operated by the Ford/Mazda cooperative AutoAlliance, which also builds shared models in the USA. Thailand was chosen because it is the world's second largest market for pick-ups (after the USA), with pick-ups accounting for over 60 per cent of all vehicle sales. Building to Ford's global quality standards, this is a full facility plant including stamping, body welding, painting, final assembly and engine manufacture. Its products are sold as both Ford and Mazda models in over 100 countries worldwide. The planned annual capacity is 135,000 units.
Ranger is a totally new design with a new name. It is available with a choice of two wheelbases, two engines and three cab configurations. Its design draws extensively on Ford heritage for building tough pick-ups like the F-series, which is recognised throughout North America as rugged, durable and reliable. Of the 26 million F-Series sold since it was first launched 50 years ago, eight million are still in use. Ranger also echoes some of the F-series distinctive styling cues, such as a bold 'egg-crate' grille, thick grille frame and flush-style front headlamps.
The Ford Ranger is available in Austria, Belgium, Spain, Switzerland, Denmark, Finland, France, Germany, Greece, Hungary, Netherlands, Norway, Portugal, Sweden and the UK.
Thailand's most fuel-efficient, 5-speed automatic transmission in Thailand
With the first 5-speed automatic transmission ever in the Thai pick-ups, Ford Ranger breaks new frontiers with greater fuel efficiency and more steadfast acceleration than with the conventional 4-speed transmission.
Tougher than tough ...
This same high-performance transmission with one-piece, seamless aluminum transmission housing is used in larger, high-power Ford SUVs such as Ford Explorer. We designed the new system to work in any climate or geographical terrain. There is absolutely no doubt if it will handle the torturous 380 nm torque of the forceful Commonrail DuraTORQ engine.
Ever ready...
The 4WD models come complete with world-class Borg Warner gear transfer, electric engagement button and Active Shift-on-The-Fly system. This allows the driver to switch between 2WD and 4WD at high speed (not exceeding 100 kph). Limited Slip Differential (LSD) is equipped as a standard device for 4WD and 2WD models to ensure torque is most efficiently transferred to the road surface.
And save even more...
The Transmission Control Module (TCM) can learn and adjust to a variety of environments and driving patterns. It works in concert with close gear ratio 5-speed automatic transmission, to keep the revs in the power band at all times. It also ensures greater fuel efficiency and acceleration than with the conventional 4-speed automatic transmission. According to the graph, the engine revolution of 2,000 - 3,000 rpm is in the power band and also most common in routine driving. It is clear that acceleration of the 5th gear is continuous all the way from the 1st gear. Closer gear ratio also means greater fuel efficiency as there is no need to rev the engine back up to the desired rpm. This is unlike in 4-speed automatic transmissions where wider gear ratio lets the revolution fall too significantly while changing gears. This pretty much sums up the motoring innovations you will find in the New Ford Ranger, the legendary American pick-up truck. With optimal engine response, smooth acceleration, improved driving dynamics and remarkable fuel efficiency … all you need to do is get behind the wheel and make your day count.
Ranger Awards and Milestones
1998, launched as Thailand's first-ever safety pick-up truck.
1999, awarded "Best 4WD Pick-up" by Grand Prix magazine
2000, became Thailand's first 4-door pick-up.
2000, became Thailand's first pick-up to pass the stringent EURO STEP 2 emission standard.
2000-2001, named "Thailand's Best Pick-up Truck" by the world-acclaimed J.D. Power Asia Pacific and Association.
2001, awarded "Best 4-door Pick-up" by Grand Prix magazine.
2003, became Thailand's first Open Cab pick-up.
| | |
| --- | --- |
| | Ford Ranger incorporates the world's most advanced technology to bring you unmatched power, performance and style in a pick-up. And Ford Ranger introduces the innovative 'dual-opening doors' that allow greater access for both load carrying and passengers, making it your choice for a most superior vehicle |
| | Professional engineers at Ford have combined all their talent and experience to develop the Open Cab Pick-up. The doors are 20% stronger than ordinary pick-up trucks and when completely closed, they act as a double-layer steel wall substituting the normal central pillar. This innovation is strong enough to endure stern distortion, and so offers superior protection for passengers in a severe collision. An additional advantage of Open Cab Technology is that the locking and unlocking system is fitted internally, making it safer and more convenient for passengers inside |
Ranger Double Cab 2WD
Retail price from THB 549,000
2.5L, 4-cylinder, SOHC 12V DuraTORQ TDCi commonrail diesel engine or 4-cylinder DOHC 16V engine 4x2
5-speed Manual Transmission
Key Features
2.5L, 4-cylinder, SOHC 12V DuraTORQ TDCi common-rail diesel engine or 4-cylinder DOHC 16V engine
4x2 WD
5-speed manual transmission
CD-MP3 Player
15" alloy wheels* on certain models
Ranger Double Cab 4WD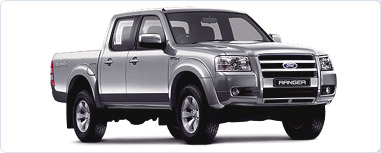 Retail price from THB 843,000
3.0L, 4-cylinder, DOHC 16V DuraTORQ TDCi commonrail diesel engine
4x4 5-speed Manual Transmission
Key Features
3.0L, 4-cylinder, DOHC 16V DuraTORQ TDCi commonrail diesel engine
4x4 * 5-speed Manual Transmission
16" alloy wheels
Front fog lights
Rear bumper
CD-MP3 Player with a 6-CD Changer* on certain models
ABS with EBD and G-sensor* on certain models
Dual front Airbags for driver and front passenger* on certain models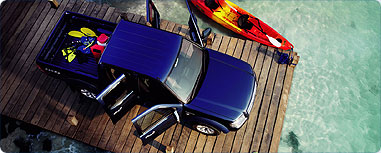 No one wants to be involved in an accident. But if you are it's reassuring to know the all Ford Ranger has the built-in safety features to handle the situation as smoothly as possible. Ford Ranger has been developed to meet the basic demands of serious drivers, especially in aspects of safety.

The safety system of Ford Ranger surpasses that of any other pick-up in Thailand, making it the first pick-up in Thailand to be in line with the FORD CORE SAFETY GUIDELINES (SDGL), the vehicle safety standard that excels every other system around the globe. Ford Ranger is committed to develop state-of-the-art safety systems and to continue to challenge global standards
| | | | |
| --- | --- | --- | --- |
| | Double B Pillar structure provides 20% stronger protection. | | 4-wheel anti-lock braking system (ABS) with electronic brake-force distribution (EBD) |
| | When a frontal collision occurs, the Central Shaft will separate to prevent the transfer of crash impact from front to rear, further enhancing the safety of passengers | | Side-door impact beams. Metal beams are fitted in side doors to offer enhanced protection from side impact |
| | Front Dual Airbags effectively protect the front passenger and the driver from frontal collision | | |
Collapsible steering wheel
ELR 3-point seat belts
Fuel Tank Protector is available in every Ranger model
IMMOBILIZER Key, the safest car-lock system, is first used for pick-ups in the new Ford Ranger. These safety systems prove Ford's commitment to continuously developing superior safety standards for pick-ups in Thailand

CRASH CAN force-absorbing structure is available in every model with Airbags. This effectively absorbs damaging force in frontal collisions, making it much safer for passengers inside as the structure of the passenger area will still remain in shape.

In addition, the body structure of the new Ford Ranger can positively endure the damaging force in a frontal collision with a car running at 50km/h. This is in line with safety standards in many European countries
Ranger Engines
2007 Ranger is equipped with Duratorq engine. Duratorq is the marketing name of a range of Ford Diesel engines first introduced in 2000 for the Ford Mondeo range of cars.
The Ford Ranger is offered with a choice of two four-cylinder 2.5-litre diesel engines, both new to the Ford line-up. The 57kW (78 PS) DuraTorq WL is a pre-chamber unit, with three valves per cylinder. It develops 168 Nm of peak torque at 2,500 rpm with characteristics that have been optimised for lugging power and a good 'performance feel'. It delivers outstanding fuel economy for an engine of this size.
The turbocharged and intercooled version of the same engine, the DuraTorq WLT, develops 40 per cent more power and 60 per cent more torque. Maximum power is 80kW (109 PS) at 3,500 rpm with a peak torque of 266 Nm at only 2,000 rpm. It has the additional refinement of twin balancer shafts to improve running refinement.
A limited slip differential is standard on the rear axle of all Ford Rangers. It improves traction on irregular and slippery surfaces, especially when lightly laden. All models also have a five-speed manual transmission.
For the practical off-road ability, Ranger is also available with dual-range selectable four-wheel drive. The front wheel hubs have the convenience of remotely operated electric locking, which is automatically engaged when wheelslip in four-wheel drive is sensed. The hubs then remain locked until disengaged via a switch on the facia. When the hubs are freewheeling, drag of the front drive shafts and transmission is eliminated, to increase fuel economy and reduce steering effort.
2.5
Ford introduced a new 2.5 L version of the Duratorq for the Thailand-built 2007 Ford Ranger. It is a 16-valve DOHC engine with Bosch common-rail direct injection and a variable-geometry turbocharger. It produces 143 PS (141 hp/105 kW) and 330 N·m (243 ft·lbf).[1]
3.0
A 3.0 L Duratorq similar to the 2.5 is also used in the 2007 Ranger. It produces 156 PS (154 hp/115 kW) and 380 N·m (280 ft·lbf).
Ford Ranger is available with a choice of high-performance engines you can select to best suit what you need from your vehicle
WL 2500cc engine
This engine is well-known for its excellent performance and high endurance. It produces maximum acceleration of 60 kilowatts EEC NETand therefore is highly responsive when overtaking. The engine offers quiet and cost-effective operation and is capable of handling tough, heavy jobs
WLT 2500cc turbo engine
This powerful engine delivers maximum acceleration of 82 kilowattsEEC NET The turbocharger and intercooler system contributes significantly to the engine's optimum torque of 270 newton-metre at 2,000 rpm. Truly with the performance of a larger engine, the WLT 2500cc turbo engine is ideal when additional power is needed
| | | | |
| --- | --- | --- | --- |
| | Front and rear suspension has been improved to function more effectively and more smoothly on even the worst roads | | Front suspension with independent dual-arm system. Torsion bar with stabilizer bar. Progressive Leaf Spring rear suspension. Cross-shaped shock absorber |
| | |
| --- | --- |
| | To keep ahead of consumer demands for more and greater improvements, Ford has established a lead in innovation. And innovation in design concepts has led to the introduction of Tonka, born of the renowned F-350, and pioneering a bold new exterior design for Ford Ranger. Tonka features unique Retro design highlighting the much admired American style of using chrome as a major part of the overall aggressive look of this all-new pick-up. |
| | | | |
| --- | --- | --- | --- |
| | Newly designed chrome front grill imparts its bold new look with large air openings. | | Well-arched Front Bonnet adds unmistakable masculinity |
| | Penetrating Fog Lamps sharpen your vision in different driving conditions | | Strengthened Double-layered Front Bumpers |
| | Stylish Side Marker Lamps | | The bright, penetrating light from extra-large Multi-Reflector Headlamps is further enhanced with Aluminum Vacuum Evaporation technology |
| | Highly-durable Trunk Liner protects the luggage area even when carrying heavy loads | | Sleekly designed 15" Alloy Wheels |
| | Eye-catching Rear Lamp and Sticker | | Sturdy and smart looking chrome accessories cover various parts including the front and rear bumpers, side mirrors, door handles and the trunk handle |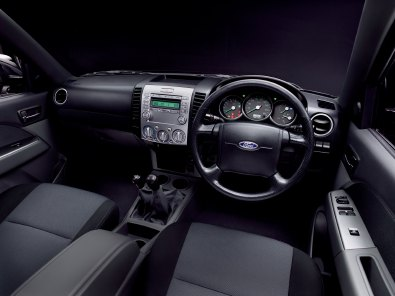 | | |
| --- | --- |
| | What a combination. Ford Ranger offers you a tough pick-up that can tackle every terrain, yet it combines that toughness with sensational style and a super spacious interior. An advanced computerized Ford design program has resulted in the design of the interior cabin to provide superior convenience and comfort for all passengers. Additionally, the Super-cab model has won wide approval in Thailand because of the cleverly designed interior that offers so much more space. No wonder Ford Ranger is a winner |
Smart dashboard and newly designed gauges. Stylish steering wheel and chrome console are complemented with sports-style glowing gauges
Ergonomically designed passenger room
All seats are stylishly upholstered and designed to offer maximum comfort. A large storage area is also placed in the central console
Audio/Air-conditioning
Enjoy listening to your favorite music from radio/CD player, and relax as the efficient air-conditioning system circulates cool airflow
Automatic Transmission provides sedan-like easy maneuvering
Electronically controlled instruments
Side windows, rear-view side mirrors and speedometer can be electronically controlled without making any noise
Internal Fuel Tank Lid Opener lets you open the lid conveniently from inside
Cool air outlets
Cool air outlets are strategically placed for optimum air circulation and fast cooling. These simple advantages mean you will obtain more comfort in Ford Ranger
Ranger Power & Performance
The new DuraTORQ 2.5L and 3.0L TDCi commonrail engines are leaders in their class, and is designed to deliver BEST-IN-CLASS TORQUE and BEST-IN-CLASS FUEL ECONOMY.
The New Leader in Technology
Commonrail Fuel Injection
Torque
The all-new 3.0L TDCi yields a 41% increase in torque
Best-in-class fuel efficiency Best-in-class fuel efficiency
For Glossary of technical terms please click here.